The Interfaith Dialogue for Peace (IDFP), a KAICIID-supported platform based in Nigeria observed the United Nation's International Day of Commemorating the Victims of Acts of Violence Based on Religion or Belief on 22 August by visiting internally displaced person (IDP) camps in Abuja and donating essential items, listening to their stories and learning about their needs to better understand and raise awareness of the impact of conflicts across the country. 
Many people across Nigeria are suffering from religiously motivated violence. In the northeast of the country, the devastating conflict caused by Boko Haram has left thousands dead, while millions have fled to IDP camps for safety. In other parts of the country, religion is being politicised and misused to divide and polarise communities for political gain, often destroying communities and driving people from their homes.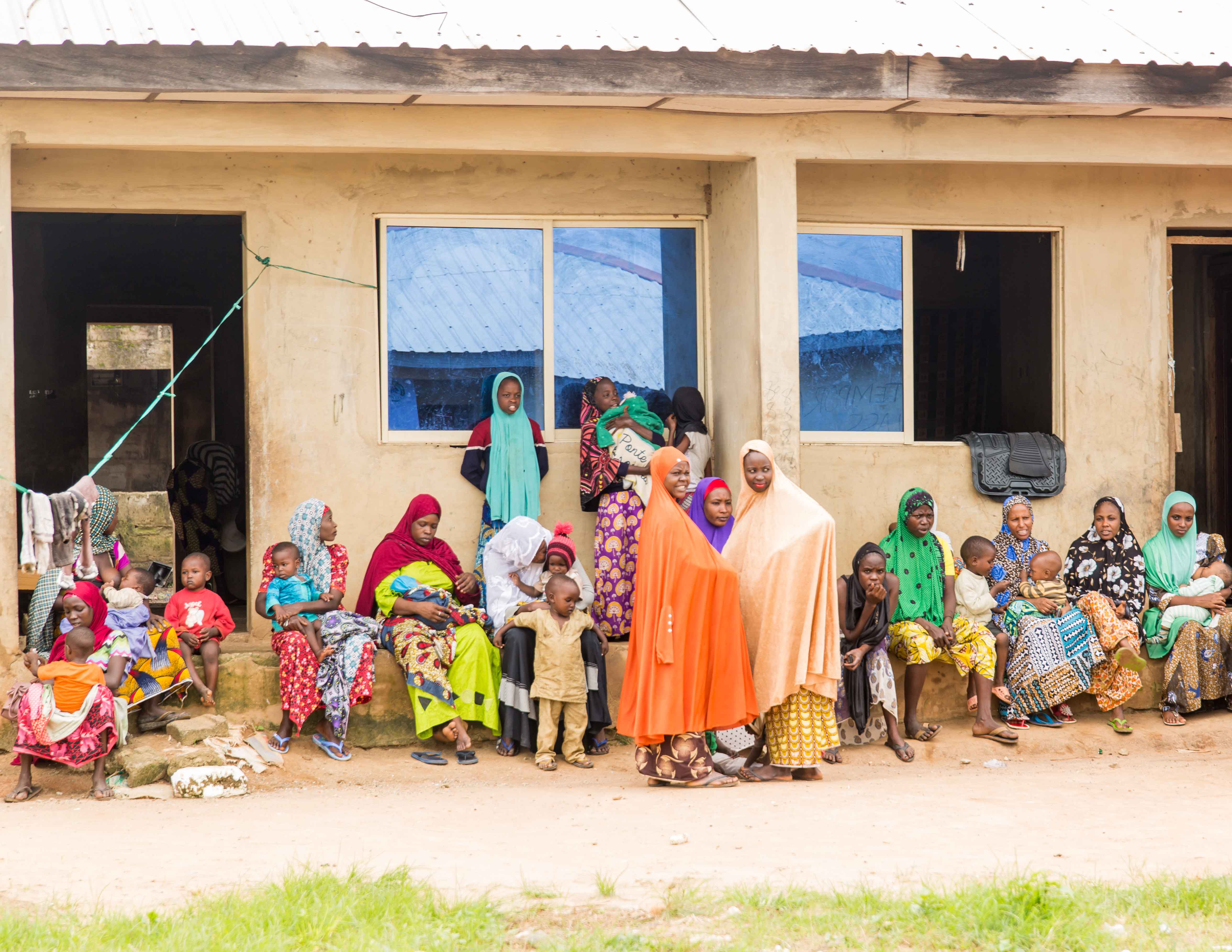 There are 19 different IDP camps in and around Abuja. There are approxomately 2 million internally displaced persons in Nigeria, according  to the UNHCR. Photo: Godwin Oisi/KAICIID
The IDFP team, led by  the two co-secretaries, Malam Ibrahim Yahya and Pastor Ibrahim Joshua, accompanied by the KAICIID Programme Officer of the Nigerian Country Office, Lantana Bako Abdullahi visited the Malaysian Gardens camp, home to more than 1,500 people who rely on philanthropy and charity to survive the harsh living conditions. The camp is comprised of people from Gwoza, Marte and other towns in the northeastern Borno state, which has been most affected by the Boko Haram violence. The displaced persons of the camp called for a resolution of the Boko Haram crisis so that they could safely return to their villages.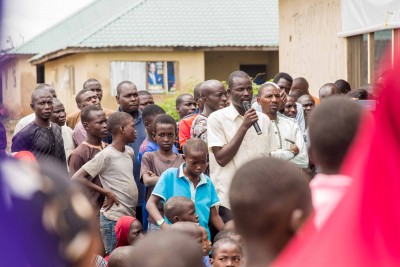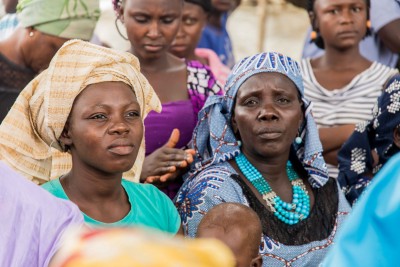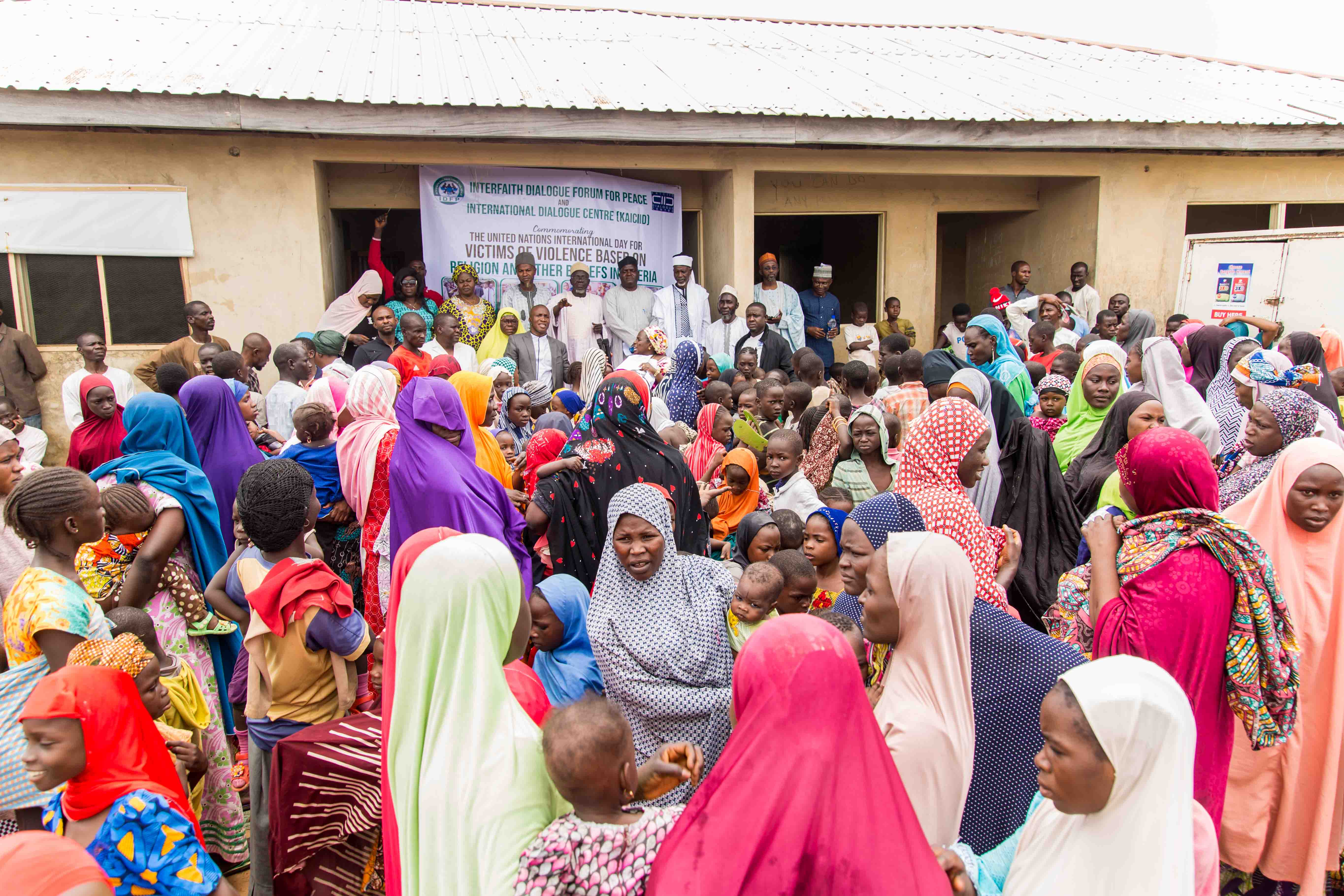 The IDFP team addresses camp residents and listens to their needs and worries in a town-hall like setting. Photo: Godwin Oisi/KAICIID
"There is nothing like home… There is no day that I don't pray to return to my village in Gwoza," Garba Ali, a camp resident said. "Getting food and potable water here has become a real challenge and some of us have been facing health hazards on account of this. We are appealing to the relevant authorities to facilitate our return to our towns that were seized by Boko Haram".
The IDFP donated foodstuffs and essential items to the camp. Many people of the camp rely on donations. Photo: Godwin Oisi/KAICIID
Alhaji Usman Adamu, the assistant leader of another IDP camp in Kuchingoro, said they have no choice but to live in the camp. "We have no alternative means of livelihood as a result of the Boko Haram crisis. All of us here once had houses and inheritance. But the Boko Haram crisis has changed everything," he explained.
"We have been in this camp since 2014," said one camp resident who preferred to remain anonymous. "We were more than this initially, but some people have returned to farms in Nasarawa and Plateau to provide food to their families living in this camp."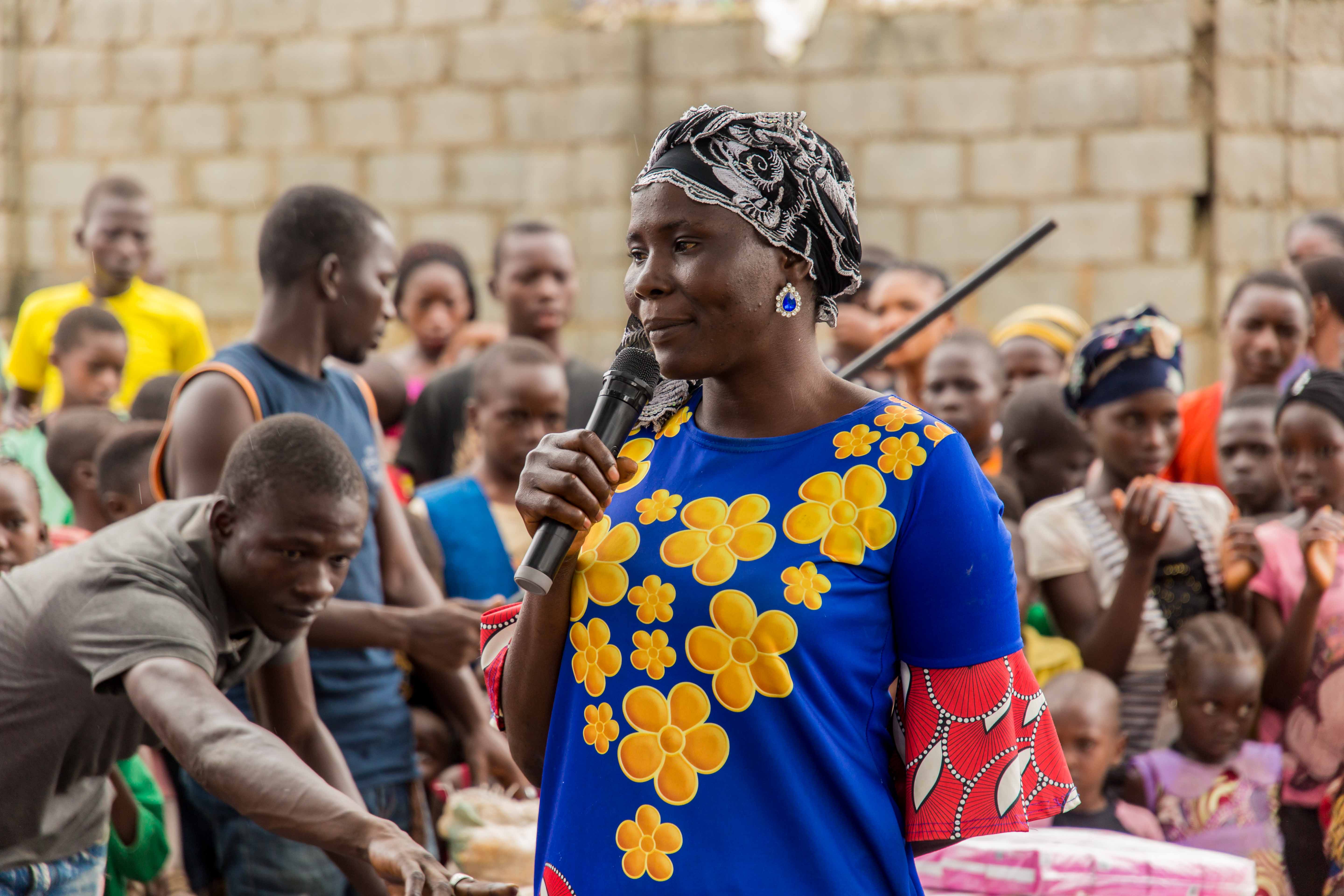 Lami Tanko, who recently gave birth to twins, said she has been at the camp for five years. "We have been here since 2014. My husband has gone out to look for what I am going to eat because as you can see, I just gave birth to twins". Photo: Godwin Oisi/KAICIID
In commemorating the Day with members of the two camps, the IDFP team reiterated its solidarity with victims of violence, especially when perpetrated in the name of religion and called on all adherents of Christianity and Islam to seek the truth, peace and justice as taught by the nation's two major religions.
The IDFP also called on the government of Nigeria to intensify security response and ensure prompt prosecution of those committing acts of violence against others.
Acknowledging the right to freedom of religion, the IDFP called on all adherents of religions in the country to respect the rule of law and fundamental rights to worship, including immediate measures to respond to the plight of IDPs for rehabilitation and resettlement.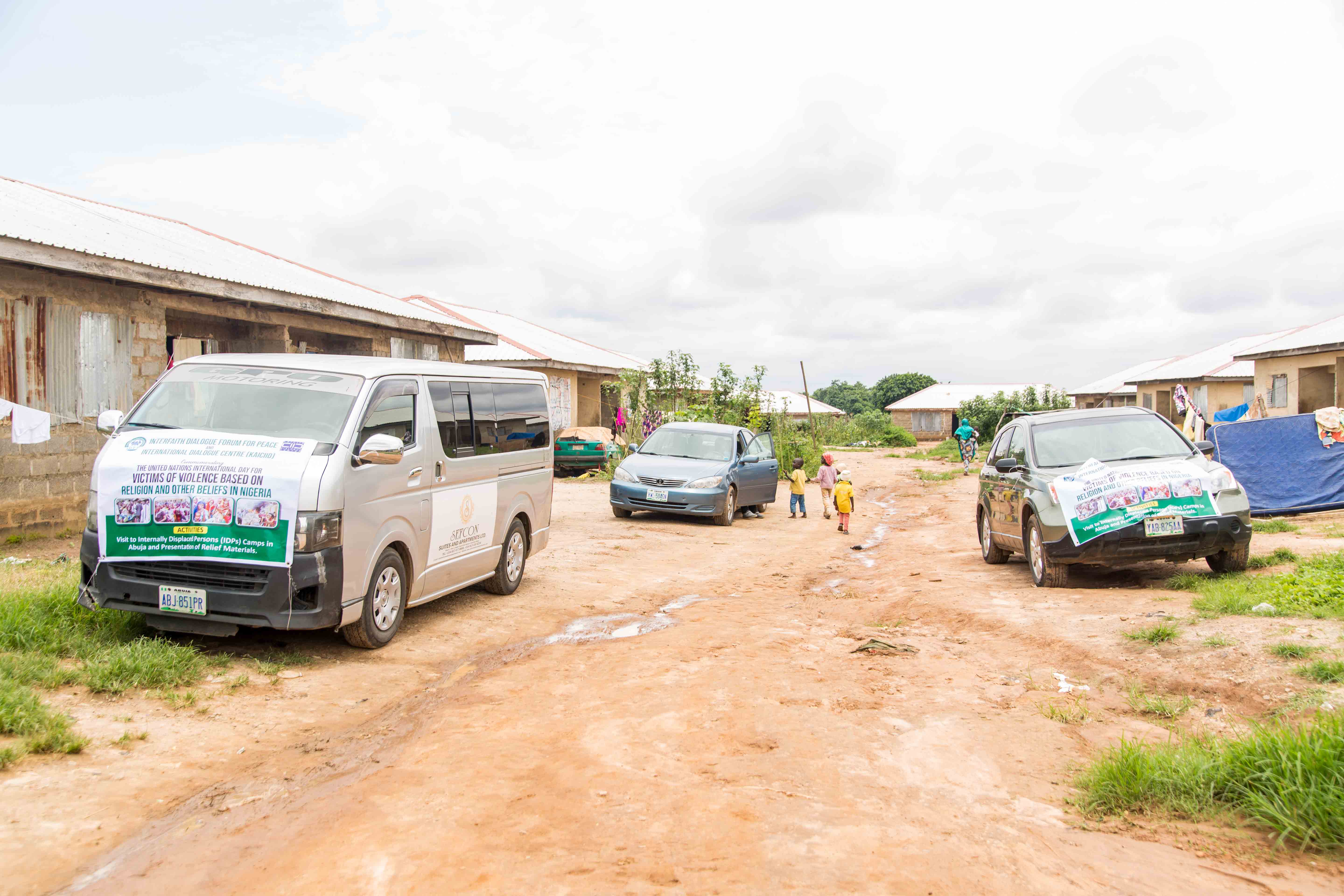 About the IDFP
The Interfaith Dialogue Forum for Peace (IDFP) is a Nigerian national interfaith and intercultural dialogue forum established in January 2017 in a process facilitated by International Dialogue Centre (KAICIID), Vienna. The Forum has as its central objective: the peaceful coexistence of adherents of all government recognized religions and ethnic groups in Nigeria.
The International Day Commemorating the Victims of Acts of Violence Based on Religion or Belief
The International Day Commemorating the Victims of Acts of Violence Based on Religion or Belief is held on 22 August and strongly condemning continuing violence and acts of terrorism targeting individuals, including persons belonging to religious minorities, on the basis of or in the name of religion or belief. Freedom of religion or belief, freedom of opinion and expression, the right to peaceful assembly and the right to freedom of association are interdependent, interrelated and mutually reinforcing. They are enshrined in articles 18, 19 and 20 of the Universal Declaration of Human Rights. Upholding these rights plays an important role in the fight against all forms of intolerance and of discrimination based on religion or belief.