Presentación del Plan de Acción Global para líderes y actores religiosos que prevengan y contrarresten la incitación a la violencia que podría llevar a crímenes atroces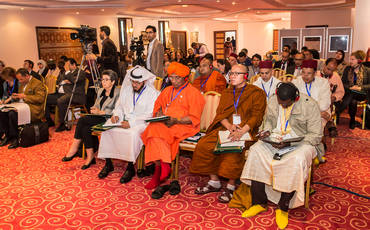 On 14 July 2017, the United Nations Office on Genocide Prevention and the Responsibility to Protect, the International Dialogue Centre (KAICIID) and the World Council of Churches will launch the Global Plan of Action for Religious Leaders and Actors to Prevent and Counter Incitement to Violence that Could Lead to Atrocity Crimes and the five regional action plans developed by religious leaders and faith-based organisations from around the world. The meeting will be chaired by the United Nations Secretary General and will take place in the UN Headquarters ECOSOC Chamber in New York, USA.
The five action plans are based on the Global Forum in Fez in April 2015, Regional Consultation for Europe in September 2015, Regional Consultation for the MENA region in November 2015, Regional Consultation for the Americas in February and March 2016, Regional Consultation for Africa in May 2016 and Regional Consultation for the Asia-Pacific in December 2016.
Launch of the Plan of Action for Religious Leaders and Actors to Prevent Incitement to Violence that Could Lead to Atrocity Crimes
Draft Programme
3:00-3.05 Welcome by Adama Dieng, Under-Secretary-General/Special Adviser on the Prevention of Genocide
Opening remarks by Antonio Guterres, United Nations Secretary-General
Sheikh Bin Bayyah, President of the Forum for Promoting Peace in Muslim Societies (tbc)
Presentation of the programme by Faisal Bin Muammar, Secretary-General of the KAICIID Dialogue Center
3.30-4:00 Introductory Panel
Moderated by Mohammed Abu Nimer, Senior Adviser to KAICIID
• Archbishop Bernardino Auza, Apostolic Nuncio and Permanent Observer of the Holy
See to the United Nations
• H.E. Aziza Baroud, Ambassador of Chad to the European Union, Benelux and the
United Kingdom
• Bishop Bernard Ntahoturi, former Archbishop of the Anglican Church in Burundi
4:00-4.50 Panel II: The role of religious leaders in sustaining peace: preventing incitement to violence and implementing the Sustainable Development Goals
Moderated by Isabel Piri, Deputy General Secretary: Public Witness and Diakonia, World Council of Churches
• Ms. Aisha al-Adawiya, Founder of Women in Islam
• Bhai Sahib Bhai Mohinder Singh, Chairman of Guru Nanak Nishkam Sewak Jatha, UK
• Rabbi Burton Visotzky, Professor of Midrash and Interreligious Studies at The Jewish Theological Seminary
• Reverend Chloe Breyer, Executive Director of The Interfaith Center of New York
• Imam Yahya Pallavicini, Vice-President of the Italian Islamic Religious Community
• Father Michael Youkhana, Leader of the Assyrian Christians and Head of CAPNI (Christian Aid Program Northern Iraq)
• Jose "Chencho" Alas, former priest and Director of the Foundation for Sustainability and Peacemaking in Mesoamerica
4.50-5.40 Panel III: Implementing the Plan of Action for Religious Leaders and Actors to Incitement to Violence that Could Lead to Atrocity Crimes: the way forward
Moderated by Mohamed Elsanoussi, Director of the Network for Religious and Traditional Peacemakers
• Mr. Ahmed Elabbadi , Secretary-General of the Rabita Mohammadia of Oulemas of Morocco (TBC)
• Reverend Bonnie Evans-Hills, Inter Faith Network of the Anglican Communion
• Pujya Sadhvi Bhagawati Saraswatiji, Secretary-General of the Global Interfaith WASH Alliance
• Sheik Nurudeen Lemu, Director of Research and Training at the Da'wah Institute of Nigeria
• Ms. Nancy Falcon, Executive Director of the Center for Intercultural Dialogue Alba
• Reverend Kyoichi Sugino, Deputy Secretary-General of Religions for Peace
5.50-6.00 Closing remarks by Adama Dieng
6.15-8.00 Reception
MC: Mohammed Elsanoussi, Director of the Network for Religious and Traditional Peacemakers
Keynote speaker: Ms. Amina J. Mohammed (TBC)
Discussion with Members of the Advisory Commttee
- Mohammed Abu Nimer, Senior Adviser to KAICIID
- Agnes Callamard, United Nations Special Rapporteur on extrajudicial, summary or arbitrary executions and Director of Columbia University's Global Freedom of Expression project
- Iqtidar Cheema, Director of the Institute for Leadership and Community Development, Birmingham, UK
- Azza Karam, Senior Advisor on Culture at the United Nations Population Fund
- Rabbi Burton Visotzky, Professor of Midrash and Interreligious Studies at The Jewish Theological Seminary