KAICIID Secretary General, Board Members in Private Audience with Pope Francis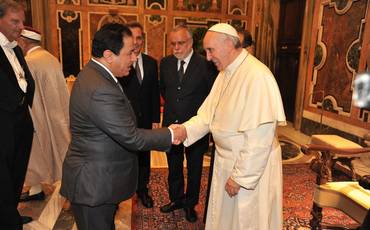 Head of Vienna Dialogue Centre Secretariat and members of the Board of Directors attend "Days of Dialogue" and "Prayer for Peace" in Rome.
From 29 September to 1 October 2013, the Secretary General of King Abdullah Bin Abdulaziz International Centre for Interreligious and Intercultural Dialogue , Mr.Faisal Bin Muaammar, together with members of the Centre's Board, took part in the International Meeting for Peace organised by the Community of Sant'Egidio in Rome. Under the theme of "The Courage to Hope; Religions and Cultures in Dialogue", the gathering welcomed religious leaders from every part of the world for days of dialogue and combined prayers for peace.
"There can't be peace without dialogue", said Pope Francis, leader of the Catholic Church, during the convention.
Mr. Bin Muaammar was among a group of senior international figures, many of them high -level religious leaders, were invited for a private audience with His Holiness and the opportunity to exchange a personal greeting with His Holiness.
In addition to his participation in the papal audience, the KAICIID Secretary General was among the intercultural and interreligious dialogue experts to engage in panel discussions in the frame of the Peace Meeting. He spoke in a panel titled "The Power of Prayer throughout History", chaired by Ignazio Sanna (Catholic Archbishop, Italy). The distinguished panel included Avichai Apel (Rabbi of Dortmund, Germany), Denys Jean Kawak (Orthodox Archbishop, Syrian Church), Ole Christian Mælen Kvarme (Lutheran Bishop, Norway) and Brian C. Stiller (Global Ambassador for the World Evangelical Alliance, USA).