KAICIID, Scouts Interreligious Dialogue Training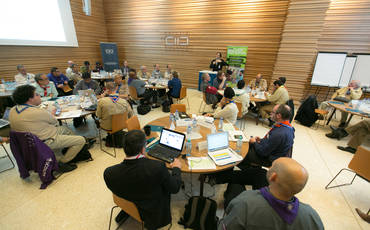 The first joint activity of the World Organisation of the Scout Movement (WOSM) and the King Abdullah Bin Abdulaziz International Centre for Interreligious and Intercultural Dialogue (KAICIID) was held from 21-24 February in Vienna, Austria. The interreligious dialogue brought together 37 scout leaders who represented diverse cultures and religions from around the world.
Each project represents a significant initiative by the Scout Movement to foster dialogue, mutual understanding and acceptance among young people from various world regions with distinct challenges and opportunities in interreligious and intercultural interaction.
The three-day programme, jointly designed by KAICIID and WOSM, was a learning opportunity to share best practices on dialogue in Scouting as well as to enrich the dialogical solutions provided by KAICIID to stakeholders around the world.
This workshop is the first result of the Memorandum of Understanding concluded between KAICIID and the World Scouts Foundation at the KAICIID Global Forum in November 2013. The Memorandum of Understanding lays out modes of cooperation between the two organisations, in particular in outreach to youth and youth leaders. The MoU also expresses the intention of KAICIID and the WSF to use dialogue as a tool to promote a responsible way of living the spiritual and religious dimension within their respective communities, and the joint preparation of dialogue training for Scouts in dialogue.