KAICIID Presents Youth Consultation Program at ISESCO Workshop in London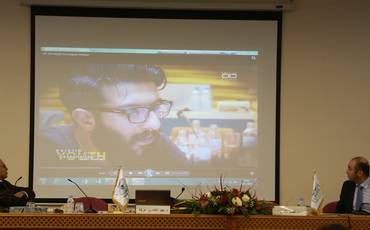 On December 17 and 18, 2014, KAICIID presented its youth consultation program at the workshop "The Role of Arab Youth Living Abroad in Promoting the Culture of Dialogue" hosted by the Islamic Educational, Scientific and Cultural Organization (ISESCO) and Arab League Educational, Cultural and Scientific Organization (ELESCO). The symposium examined the role of Arab youth residing abroad in establishing and promoting a culture of dialogue with their western counterparts.  
Anas Alabbadi, Programmes Officer at KAICIID began his presentation by underlining the importance of the next generation as a part of the solution, "Youth are not only the future leaders, they are potential leaders for today." During his talk, he presented the best practices for youth engagement in interreligious dialogue programmes. A brief video about KAICIID's youth consultation and interreligious dialogue training, which took place in August of 2014 was screened.
The rest of the workshop focused on the challenges and opportunities of the lives of Arab Muslim residents abroad. One of the issues discussed was "What skills should youth possess to actively live in European society?" The workshop emphasized the importance of dialogue between Arab youth and their Western counterparts, which is one of the mandates for ISESCO's work.  Some of the conclusions that came out of the discussions during the two day workshop included:
Religious discourse should reflect the reality and needs of youth today
Intergenerational dialogue is needed between religious leaders and youth
There is a challenge between reconciling two cultures comprising the family's home culture and the culture of the country where youth are growing up
There should be a focus on the values of equality, pluralism, acceptance, and dialogue
Active citizenship in a particular country doesn't prevent youth from keeping their unique multicultural identity
Alabbadi concluded his talks by saying that "diversity and pluralism bring development and innovation," and although disagreements are inevitable, Arab Muslim youth need the skills to "invest in and celebrate such diversity." KAICIID is looking forward to continued engagement with youth this coming year.
For our readers and media, to stay updated on KAICIID's activities, please follow us on Twitter or sign up for our newsletter, media are encouraged to reproduce this story.