Combatiendo la trata de seres humanos y la migración forzada: Testimonios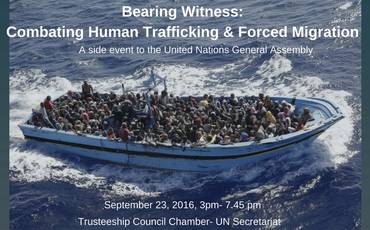 KAICIID, together with the UN Office on Genocide Prevention and the Responsibility to Protect, World Council of Churches, Permanent Missions of Italy and Spain, Institute for Strategic Studies and Democracy of Malta, and the International Partnership on Religion and Sustainable Development, is organizing this consultation to convene concerned Member States, the United Nations and civil society, including faith-based organizations as well as voices from the field, to bear witness to the impact of human trafficking, forced migration and atrocity crimes.
It will have two parts, the first focusing on the phenomena of human trafficking and forced migration, the second on the role of faith-based organizations in responding to them. The consultation is designed to complement the UN Summit for Refugees and Migrants held on 19 September 2016.
For more information, please visit the Summit webpage.
The full agenda of the meeting is available here.
Watch the full event here:
(Part 1) Bearing Witness: Combating Human Trafficking and Forced Migration
(Part 2) Bearing Witness: Combating Human Trafficking and Forced Migration