KAICIID INTERNATIONAL FELLOWS PROGRAMME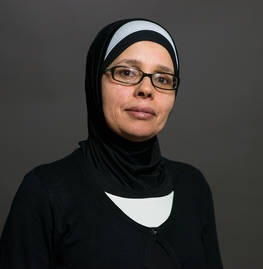 Country:
Austria
Language:
English, German, Arabic, French
Organizations:
Islamische Religiöse Autorität Österreichs
Expertise:
Education
Focus area:
Academic
Religious affiliation:
Islam
Mabrouka Rayachi completed a Master of English and German from the Bourguiba school in Tunis in 1991 and earned a pedagogy diploma from the Islamic Religious Pedagogical Academy in Vienna in 2004. She was a religious teacher in Viennese schools from 1993 to 2012. During this time she organized many interreligious programmes with other religion teachers (mainly Catholic and Protestant). In April 2012 she became an Inspector for the Islamic religion teachers in Lower Austrian schools and initiated an interreligious seminar with her Catholic and Protestant colleagues on subjects such as the celebration of religious traditions in Islam and Christianity. She encourages her fellow teachers to actively encourage interreligious dialogue in school by regularly providing them with ideas and teaching materials. She is especially interested in broadening the interreligious activities, especially among young people. During the course of her work on interreligious dialogue, she has not only learned about other faiths, but has also learned much more about and deepened her own faith. As an active member within her Islamic community, she was chosen as the official Austrian representative to the first International Women's Congress for a Culture of Peace in Algeria in 2014. Her Motto: The way to sustainable peace is interreligious dialogue.
Fellows Project: Interreligious and Interfaith Learning - A Key Building Block for Peaceful Coexistence at School
Mabrouka Rayachi supports the view that a culture of peace and acceptance should be promoted through education as a way to enrich dialogue. She feels that the challenge is to explore ways of incorporating in the curricula the core values of different religious traditions, as such pedagogical principles could highlight the common humanity of all people. The teacher is the agent to facilitate such processes. Through her initiative, Mabrouka seeks to engage Islamic religious teachers in interreligious dialogue training and facilitation. This one-year project aims to make Islamic religious teachers in lower Austria aware of the importance of interreligious and intercultural dialogue as a pedagogical teaching principle in promoting and sustaining peaceful coexistence at school. The main objective of this project is "to make IRD an inherent part of Islamic religious teaching, because through intensifying IRD at schools, young people will be more tolerant and understanding." By merging the knowledge and skills acquired during the training, the participants will work on designing and developing initiatives on how to achieve these recommendations.