ABOUT DKH
Introduction
The KAICIID Dialogue Knowledge Hub (DKH) is a user-focused virtual platform to serve anyone working or interested in interreligious dialogue (IRD) throughout the world. The services are primarily informative and educational, while also creating networking opportunities. The platform is accessible through various portals such as directories, databases and e-learning training courses and webinars. Each portal offers an avenue to another aspect of information and updates on interreligious dialogue.    
DKH Key Functions
Provision of high-quality E-learning courses and thematic webinars in the field of IRD;
Research and development of knowledge tools and services to facilitate best practices and experience sharing;
Provision of open access to KAICIID IRD online Databases and Resources
DKH Role
DKH External role: The DKH's role and purpose is to develop and deliver high quality, relevant and effective online IRD training and learning services; knowledge tools, online databases and resources in the area of IRD, to its key stakeholders, partners and constituents.  It aims to enhance policy and decision making in the field of IRD as a source of strengthening social cohesion.
DKH Internal role: Contributing to a more effective, results-oriented and agile KAICIID, the DKH also provides customised service and tailor-made support to all KAICIID staff, through learning, training, knowledge creation and sharing.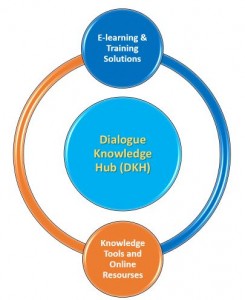 DKH 2 Core Programmes
DKH portfolio of primary initiatives and sub-projects are clustered under 2 core focus areas: 1. E-learning and Training Solutions; and 2. Knowledge Tools and Online Resources.
Through the Dialogue Knowledge Hub, we strive to make this information accessible for your use. Your feedback to us is very welcome, since you contribute to the constant updating of the platform and help us to better serve you.  You may contact us at [email protected]