The Fellows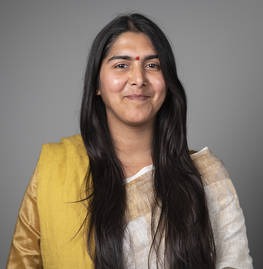 Country:
India
Language:
English, Hindi
Expertise:
Molecular Cell Biology, Psychology
Religious affiliation:
Hinduism
Director of Implementation, Global Interfaith WASH Alliance
Ganga Nandini is a youth leader who has recognised the immense power of faith and serves as the director of implementation, integration and communication for the Global Interfaith WASH Alliance (GIWA), the world's first-ever international interfaith initiative that brings together the world's faiths as allies in ensuring every child around the world has access to safe, life-giving water, sanitation and hygiene (WASH). She was born and raised in Los Angeles, California and graduated from University of California, Berkeley with a Bachelor's Degree in Molecular Cell Biology and Psychology.
Spiritually inspired by the sacred national river Ganga in 2010 during her visit to her ancestral land India, she felt a call to serve His Holiness Pujya Swami Chidanand Saraswatiji, Founder/Chair of GIWA, and President of the Parmarth Niketan, Rishikesh (Himalayas), a sacred adobe where people from every faith and walk of life are welcomed and invited. Previously in high school as a Youth Mentor of the National Council of Community and Justice (NCCJ) in Los Angeles, California, an organisation now known as Cacej, for more than five years she was transformed by the power of dialogue and today serving with GIWA, as the Vice President of the Harijan Sevak Sangh of Uttarakhand, in various capacities of leadership in Ganga Action Parivar and Divine Shakti Foundation she dedicates her life to coordinate and implement various large-scale and multi-faceted initiatives, programmes and projects, especially in mobilising interfaith leaders and faith-based communities in India to work together towards the Sustainable Development Goals and towards environmental preservation.