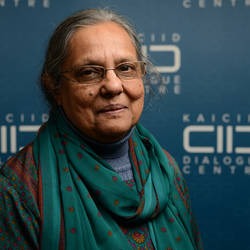 Nationality:
South Africa
KAICIID Affiliation:
KAICIID Advisory Forum
Trustee, Gandhi Development Trust
Ela Gandhi is the granddaughter of Mohandas Gandhi, also known as 'Mahatma' (great soul) Gandhi, the man who famously led Indians to independence from their British colonizers in 1946. She was born in 1940 and grew up in the Phoenix Settlement, the first Ashram established by Mahatma Gandhi, in the Inanda district of KwaZulu Natal, South Africa. An anti-apartheid activist from an early age, she was banned from political activism in 1973 and served ten years under banning orders of which five years were under house arrest. Gandhi was a member of the Transitional Executive Council and gained a seat as a member of the ANC in Parliament from 1994 to 2003, representing Phoenix which is in the Inanda district. Since leaving parliament, Gandhi has worked tirelessly to fight all forms of violence. She founded and now serves as Trustee of the Gandhi Development Trust which promotes non-violence, and was a founder member and chair of the Mahatma Gandhi Salt March Committee. She also serves as Trustee of the Phoenix Settlement Trust and is co President of the World Conference on Religions for Peace and chairperson of the Advisory Forum of KAICIID International Centre.  Honorary Doctorates were conferred on her by the Durban University of Technology, University of KwaZulu Natal, Sidharth University and Lincoln University. In 2002, she received the Community of Christ International Peace Award and in 2007, in recognition of her work to promote Mahatma Gandhi's legacy in South Africa, she was awarded the prestigious Padma Bushan award by the Indian Government.
Biography data as at 25.1.18
Main Publications:
1.) Gandhi, Ela. 1993. Gandhiji's vision of peace. Krugersdorp, South Africa: World Conference on Religion and Peace, South African Chapter.
2.) Gandhi, Ela. 2013. "Working together only way to forge common identity". The Mercury (South Africa).
Areas of Actions:
Peace and Reconciliation
Dialogue
Shared Human Values
Democracy, Social Cohesion and Citizenship
Forms of Actions:
Networking
Advocacy