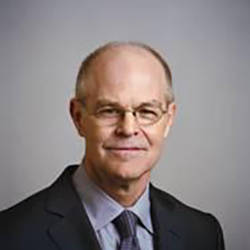 Nationality:
United States
KAICIID Affiliation:
KAICIID Advisory Forum
Former Secretary General, Religions for Peace (RfP)
Dr. William F. Vendley is the former Secretary General of Religions for Peace International. Its World Council consists of 60 senior religious leaders from all continents.   From 1994 to 2019 he coordinated the activities and projects of Religions for Peace in 90 national and 5 regional councils.
He is a pioneer in advancing multi-religious cooperation to help resolve conflict and advance development and has facilitated the establishment of multi-religious councils around the world. In the immediate aftermath of the civil war in Bosnia, he facilitated the Inter-religious Council of Bosnia-Herzegovina, which served Bosnia's religious leaders in their efforts to heal their society and re-build a single, multi-ethnic Bosnia. He also facilitated the establishment of the Interreligious Council of Sierra Leone in the midst of a ten-year civil war, supported the successful multi-religious mediations between the rebels and the government and was requested to assist in the formal peace talks in Lome, Togo.
He has advanced multi-religious efforts to prevent conflicts, mediate among warring parties and heal societies in the aftermath of violence in Ethiopia, Eritrea, Liberia, Indonesia, Sri Lanka, Iraq and many other countries. He facilitated formation of the Religions for Peace Middle East North Africa Council, a regional civil society multi-religious structure designed to foster concrete multi-religious solidarity and action across the region. He is convinced that multi-religious efforts for peacemaking provide unique strengths that complement those marshaled by governments and bodies like the United Nations.
William co-founded the Hope for African Children Initiative to address the needs of African children orphaned by HIV/AIDS. The Initiative resulted in an initial $50M being raised to help equip African communities, particularly grassroots religious congregations, to provide needed services to vulnerable children. This work provided the base for major additional grants of $150M to underwrite the development work by the 26 African interreligious councils affiliated with Religions for Peace.
William is an advisor to a number of governments on matters related to religion and peace. He serves on the Leadership Council of the United Nations Sustainable Development Solutions Network. He advised President Obama through his service on the Multi-religious Cooperation and International Affairs Task Force of the White House Faith Based Council. He was appointed by US Secretary of State Hillary Clinton and re-appointed by Secretary Kerry as one of ten members of the US State Department's Advisory Committee on Strategic Partnership with Civil Society and he is a Co-chair of the State Department's Religion and Foreign Policy Working Group.
William is a theologian and has served as a professor and dean in Roman Catholic graduate schools of theology. He earned his BA from Purdue University (1971) and was the recipient of its Distinguished Alumni for Science Award in 2005. He has a PhD in systematic theology from Fordham University (1984).
Biography data as at 03.04.18
Main Publications:
1.) Vendley, William F. 1988. Pluralism and the theological methods of Karl Rahner: a critical assessment.
2.) Vendley, William F. 2005. "The Power of Inter-religious Dialogue to Transform Conflict". Cross Currents. 55 (1): 90.
3.) William F. Vendley. 2011. "A revolutionary development: Religions are speaking in common tongues Religious fanatics capture headlines, but the big story is that interfaith cooperation has reached unprecedented levels. This is because religious communities are increasingly laying aside denominational jargon for the language of public collaboration". The Christian Science Monitor.
4.) Vendley, William F. 2011. "A revolutionary development: Religions are speaking in common tongues". Christian Science Monitor.
5.) Dr. William F. Vendley*. 2011. "OP-ED: RELIGION, REVOLUTION AND TWO LANGUAGES". IPS - Inter Press Service.
Areas of Actions:
Peace and Reconciliation
Dialogue
Shared Human Values
Environment
Conflict Resolution and Transformation
Forms of Actions:
Educational Programmes
Information Distribution
Networking