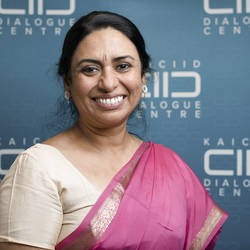 Organization(s):
National Foundation for Communal History
KAICIID Affiliation:
KAICIID Board of Directors
President, Shanti Ashram
Co-moderator and Executive Committee Member, Religions for Peace International
Chairperson, International Interfaith Council for Children, Arigatou International
Member, Governing Council, National Foundation for Communal Harmony
Dr. Aram is currently the President of a dedicated Gandhian Institution Shanti Ashram.  In its 32nd year, it has become a centre for development, learning and practice. The service outreach of Shanti Ashram has also grown over the past 10 years to cover nearly 80,000 vulnerable children and partner 232 institutions annually. Her pioneering work also includes intersections between 'poverty-ethics-development-health'.
Dr.Aram is deeply committed to the Gandhian spirit and convenes at Shanti Ashram the Sarvo-Foco Roundtables. Over the last 10 years 21 such roundtables have been held. With a consortium of Gandhian institutions she coordinates development collaborations for women & children and has been part of interfaith dialogue efforts for the past twenty years.
She has contributed to conceptualization and development of the interfaith resource for ethics education 'Learning to Live Together' at Arigatou International together with UNESCO and UNICEF.  As well, she has contributed towards Unicef's 'violence against children' and 'children in world religions' study, the Global health council's interfaith initiative on women, religion and HIV and the multi-agency women, faith and development initiative. Important national assignments at the National Foundation of Communal Harmony (NFCH), in 2015 included leading an expert's team to review and strengthen Government of India's, 'Project Assist', a country-wide government programme that helps children affected by communal violence and the Interfaith Initiative for Children on learning, education and ethics.
An alumnus of the Harvard School of Public Health & PSG Institute of Medical Sciences & Research, she has led public health initiatives in the areas of HIV, preventive pediatrics, child survival & health world-wide.
Other positions:
- Distinguished membe, Board of Management, Gandhigram Rural University
- Trustee, M.S. Swaminathan Foundation
Biography as at 22.10.18
Main Publications:
1.) Aram, Kezevino. 2013. "Faith-inspired work for societal change and peaceful co-existence: the Gandhian experience". Faith in Civil Society : Religious Actors As Drivers of Change. 45-54.
2.) Moksnes, Heidi, and Mia Melin. 2013. Faith in civil society: religious actor as drivers of change. Uppsala: Centre for Sustainable Development, University.
Areas of Actions:
Peace and Reconciliation
Dialogue
Youth
Shared Human Values
Forms of Actions:
Networking
Educational Programmes