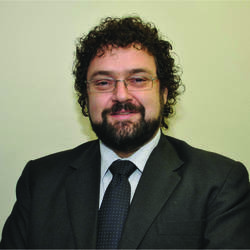 Organization(s):
Latin American Jewish Congress
KAICIID Affiliation:
KAICIID Advisory Forum
Executive Director, Latin American Jewish Congress
Representative to the Holy See & Commissioner for Interreligious Dialogue, World Jewish Congress
Claudio Epelman is the Executive Director of the Latin American Jewish Congress, regional branch of the World Jewish Congress, and Commissioner for interreligious dialogue &  Representative to the Holy See of the World Jewish Congress. Epelman had a personal relation with the then Cardinal Jorge Bergoglio, when the Cardinal occupied the position of archbishop of Buenos Aires.
Epelman is a member of the Advisori forum of KAICIID, a member of the Executive Committee of the Latin American and Caribbean Council of Religious Leaders, and a member of the International Advisory Board of the Doha International Center for Interfaith Dialogue (DICID).
He is very committed to inter-faith initiatives both promoting Jewish and Muslim dialogue, and building bridges with the Catholic community. Epelman also represents the Jewish Communities of Latin America at meetings with heads of state, and at international forums like the UN, OAS, OSCE, World Economic Forum.
Understanding the importance that the Internet and social media have in our days, Epelman promoted the creation of tools that monitor and denounce online anti-Semitism and all forms of discrimination, which can be found on the Web.
Epelman is also responsible for actively promoting the incorporation and participation of young people in the political actions of Jewish communities, forming them to be the leadership of the future.
The Government of Argentina awarded Epelman a recognition in 2007 for his valuable work in the interfaith field.
Biography as at 19.10.17