Archbishop Felix Anthony Machado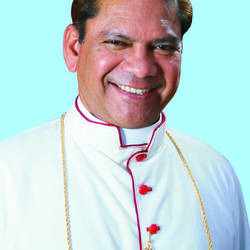 Organization(s):
Catholic Diocese of Vasai
KAICIID Affiliation:
KAICIID Advisory Forum
Archbishop, Catholic Diocese of Vasai
Archbishop Felix Anthony Machado was born on June 6, 1948 in Remedy in Vasai Diocese. He was ordained a priest in October of 1976 in the Archdiocese of Bombay. In May 1998 he was incardinated in the Diocese of Vasai. He was appointed as the Archbishop of Nashik in January 2008 and was ordained in March 2008. He was later transferred to the Diocese of Vasai and was installed on 19th  December  2009. He has a Ph.D. from Fordham University, New York, U. S. A. (1984).
Archbishop Machado worked as "Official for Asia Desk" from April 1993 to October 1999. Then he was appointed Undersecretary in the Pontifical Council for Interreligious Dialogue, Vatican, from 1999 to 2008. Presently, he serves as the chairperson for the Office for Interreligious Dialogue of the Federation of Asian (Catholic) Bishops' Conferences (FABC). Presently he is President of the Western Region Bishops' Council (WRBC) since12th December, 2014.
Biography data as at 02.04.18
Main Publications:
1.) Machado, Felix Anthony. Jnaneshvari Path to Liberation. Somaiya Publications, 1998. (English, French & Italian languages).
2.) Machado, Felix Anthony. Journeying Together. (English, French & Italian languages).
3.) He is also the author of numerous articles in various Indian and foreign journals of philosophy and theology in various languages such as Marathi, English, French and Italian are to his credit.