Call for Applications: Dialogue Journalism Fellowship in the Arab Region 2023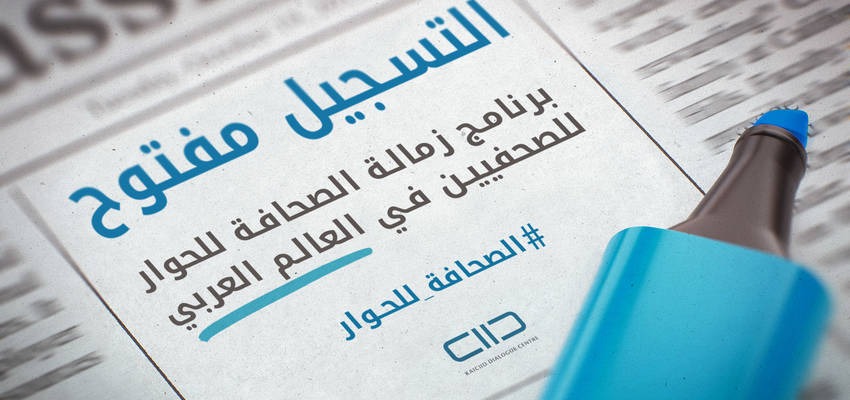 Journalists in the Arab Region are encouraged to apply to partake in a year-long Fellowship Programme on dialogue journalism.
WHAT IS IT?
In November 2021, KAICIID launched the Arab Region Media for Peace Programme to foster peacebuilding and dialogue in the media. The programme is formed of two parts: the Dialogue Journalism Fellowship and the Media Policy Forum. The centre is now welcoming applications for the 2023 cohort and looking forward to welcoming new candidates for the Dialogue Journalism Fellowship.
For the Fellowship, around 25 mid-career journalists will be selected to participate in a year-long training programme. The group of chosen fellows will have access to three four-day capacity building sessions, training them in the practice of 'dialogue journalism'.
The Media Policy Forum will follow the Fellowship Programme and will host senior editors, high-profile media practitioners, policymakers from across relevant disciplines as well as keynote speakers to discuss the principles and ethics of good journalistic practice. Collectively, the group will produce a set of recommendations for more sustainable reporting on conflict and religion, and potentially publish a Media for Peace charter.
The entire programme will be delivered in Arabic.
WHO CAN APPLY?
Eligible fellows are required to have at least five years of experience in journalism or other relevant fields. They can be working on any platform (print, podcast, digital).
Fellows must be native to one of the mainly developing countries of the Arab Region;
Fellows must currently live in and write for media in the Arab Region;
Fellows must be between the ages of 28 and 40;
Fellows must be currently employed as professional journalists for print, television, radio, or electronic journalism organizations. Both full-time and freelance journalists are invited to apply.
Fellows should have an interest in interreligious dialogue and journalism, peacebuilding, and social cohesion.
TIMELINE
7 February 2023: Applications are due
28 February 2023: Shortlisted candidates will be notified for interviews.
23 March 2023: The fellowship programme will start in the form of an online launch, followed by an on-the-ground training scheduled in April 2023.
HOW DOES IT WORK?
Online mentorship by senior trainers
Group training workshops
Grant funding
Online mentorship will be offered to fellows from different media outlets such as print, radio, online, and TV. The mentors will have expertise in different aspects of the media industry. They will aim to:
Identify editorial objectives with the fellows
Provide feedback and coaching in areas such as video editing and story structure
Identify strengths and areas of development of the first deliverable draft
Agree on support needs to fine-tune the story
In addition to the mentorship and group training— which will be provided in-person — the programme will offer participants a grant of up to 2,000 EUR for producing content that follows the principles of dialogue journalism, helping the participants become active advocates for peace by shining the spotlight on stories that foster social cohesion.
REQUIRED DOCUMENTS
CV (no longer than three pages);

Personal photo;

Motivation letter (no longer than one page) indicating the applicant's interest and focus of the proposed production, clearly stating its connection to interreligious dialogue;

Recommendation letter from a current or previous media outlet that the applicant has worked with;

Video of the applicant introducing his/herself and explaining their expectations from this opportunity (not longer than one minute);

Links to three previous work samples (articles, video reports, TV programmes, documentaries… etc.)