The Advisory Forum
Reverend Dr. Margaretha Hendriks-Ririmasse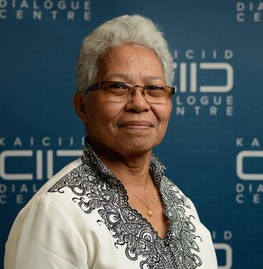 Language:
English
Expertise:
Conflict Resolution
Focus area:
Academic, Religious Institution
Religious affiliation:
Christianity
Pastor emeritus to the Protestant Church in Moluccas, Interfaith Activist
Rev. Dr Margaretha Hendriks-Ririmasse of the Protestant Church in the Moluccas was dean of the Theological Faculty of the Indonesian Christian University in Moluccas, and until 2013, the Vice moderator of the Central Committee of the World Council of Churches (CC WCC).
Hendriks-Ririmasse helped initiate an interfaith peace and reconciliation initiative in the conflict-ridden Moluccas region of Indonesia and also serves as one of four chairpersons of the Communion of Churches in Indonesia and was the vice-chairperson of the Association of Theological Schools in Indonesia.