The Advisory Forum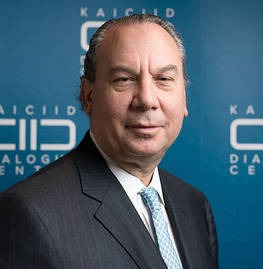 Country:
United States
Language:
English
Organizations:
Foundation for Ethnic Understanding (FFEU)
Expertise:
Interreligious Dialogue
Focus area:
Civil Society
Religious affiliation:
Judaism
Foundation for Ethnic Understanding (FFEU)
A trailblazer in the field of Muslim-Jewish relations with his Foundation for Ethnic Understanding (FFEU), Rabbi Schneier created and spearheaded the annual Weekend of Twinning's of Mosques and Synagogues across the globe; annual meetings of the Gathering of European Muslim and Jewish Leaders (GEMJL) in Paris and Brussels; Mission of 28 European Imams and Rabbis to the United States (2009); Mission of European Muslim and Jewish leaders to Washington D.C. (2009) Mission of Latin American Muslim and Jewish leaders to Washington D.C (2012) and the Mission of Muslim and Jewish leaders from the Southern Hemisphere (2013) and the first Summit of Rabbis and Imams in New York (2007). He was appointed to the Steering Committee of the Kingdom of Saudi Arabia's World Conference on Dialogue, convened by King Abdullah in Madrid (2008) and in Vienna (2009, 2010, 2012). Rabbi Schneier has also been appointed to the Executive Steering Committee of the Multi-Religious Campaign Against Anti-Muslim Bigotry in the United States (2010). In 2011, he co-sponsored a Rally in Times Squares, entitled Today I am a Muslim too to denounce Islamophobia. In 2011, he was the first rabbi to be received in Bahrain, by King Hamad bin Isa Al Khalifa. In 2013-2014, Rabbi Schneier was hosted by Israeli President Shimon Peres, at his residence in Jerusalem; Palestinian President Mahmoud Abbas and Palestinian Prime Minister Rami Hamdallah, at their residences in Ramallah. 
His latest book was published in 2013: He co-authored Sons of Abraham: A Candid Conversation about the Issues That Divide and Unite Jews and Muslims, with a foreword by President Bill Clinton. As a keynote speaker at the 75th Anniversary of Kristallnacht in Vienna, Rabbi Schneier was received by Austrian President Heinz Fischer. In January 2014, he addressed the Italian Parliament in Rome, followed by his spearheading the meeting of GEMJL leaders with Council of Europe Secretary General Jagland in Strasbourg protesting a proposed ban on ritual circumcision. In 2014, his foundation initiated local Muslim-Jewish Solidarity Committees in several cities in the United States. In 2015, he was a keynote speaker of the 3rd World Forum on Intercultural Dialogue in Baku and was received by Azerbaijani President Ilham Aliyev.