The Advisory Forum
Most Reverend James Massa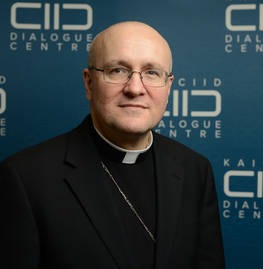 Country:
United States
Language:
English
Organizations:
Roman Catholic Diocese of Brooklyn
Expertise:
Theology
Focus area:
Religious Institution
Religious affiliation:
Christianity
Auxiliary Bishop, Roman Catholic Diocese of Brooklyn
The Most Reverend James Massa is an Auxiliary Bishop of the Roman Catholic Diocese of Brooklyn. A graduate of Boston College and Yale University's School of Divinity, the Most Reverend Massa pursued his doctorate in systematic theology at Fordham University in New York, where he wrote his dissertation under the late Cardinal Avery Dulles. While serving in various pastoral roles, and later on the faculty of several seminaries, the Most Reverend Massa lectured and published on topics pertaining to fundamental theology, ecumenism and the theology of the church. In 2005, the Most Reverend Massa was named the Executive Director of the U.S. Conference of Catholic Bishops' (USCCB) Secretariat for Ecumenical and Interreligious Dialogue, where he coordinated national meetings between Catholic leaders and their dialogue partners from other faith traditions.  Three years later, he was appointed by Pope Benedict XVI a Consultor to the Pontifical Council for Interreligious Dialogue and a Member of the Joint Working Group between the Holy See and the World Council of Churches. Since 2013 he has served in the Brooklyn Diocese as the Moderator of the Curia and Vicar for Catholic Education. In 2015 Pope Francis named him an Auxiliary Bishop with the Titular See of Bardstown, Kentucky.