The Advisory Forum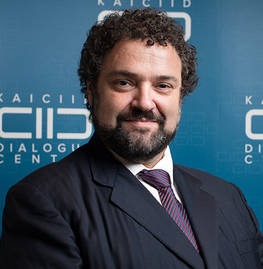 Language:
Spanish
Organizations:
Latin American Jewish Congress
Expertise:
Interreligious Dialogue, Judaism
Focus area:
Religious Institution
Religious affiliation:
Judaism
Executive Director of the Latin American Jewish Congress
Claudio Epelman is the Executive Director of the Latin American Jewish Congress, regional branch of the World Jewish Congress, & the Representative to the Holy See of the World Jewish Congress.
In this last capacity Epelman coordinated the meeting between the Jewish leaders of Latin America and Pope Benedict XVI in 2012, and several meetings with Pope Francis as well, with whom he has a personal friendship from the time Cardinal Bergoglio was the Archbishop of Buenos Aires.
Epelman is a member of the Executive Committee of the Latin American and Caribbean Council of Religious Leaders, and a Member of the International Advisory Board of the Doha International Center for Interfaith Dialogue (DICID). In 2008 he led the Jewish delegation at the Conference organized by the Kingdom of Saudi Arabia and the World Muslim League held in Madrid.
He is very committed to inter-faith initiatives both promoting Jewish and Muslim dialogue, and building bridges with the Catholic community.
Epelman also represents the Jewish Communities of the region at meetings with heads of states, and also at international forums like the UN, OAS, OSCE, World Economic Forum.
The Government of Argentina awarded Epelman a recognition in 2007 for his valuable work in the interfaith field.