The Advisory Forum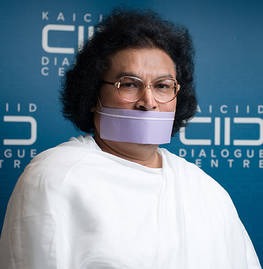 Organizations:
Ahimsa Vishwa Bharti
Religious affiliation:
Jainism
Founder President 'Ahimsa Vishwa Bharti'
Acharya Dr. Lokesh Muni a versatile thinker, writer, poet and social reformer and has been continuously making efforts in national character building, development of human values and establishing non-violence, peace and mutual cooperation in Indian society for the past 32 years. He has traveled on foot about 20,000 kilometers throughout India to promote removing social evils and to propagate moral values. In order to give practical shape to these values, he founded "Ahimsa Vishwa Bharti" and thus spreading his field of activities throughout the world. With the establishment Ahimsa Vishwa Bharti he started a strong movement against social evils like the abortion of female children, drug addiction, environmental pollution, etc.
Acharya Dr. Lokesh was born on April 17 1961 in Pachpadra City. After completing his formal education he deeply studied Jain, Buddhist, Vedic and other Indian and foreign philosophies. He is well read in Prakrit, Sanskrit, Hindi, English, Gujrati, Kannarese and many other languages. He is also a writer and has written more than a dozen books in prose and poetry.
In the year 2010 Acharya Dr. Lokesh Muni was honoured with the National Communal Harmony Award by the Government of India, presided over by Prime Minister Dr. Manmohan Singh and Honorable Vice President of India Mohd. Hamid Ansari. Acharya Dr. Lokesh has been honored by the United Nations with Ambassador of Peace Award in 2014 at UN Centre for his remarkable contributions towards World Peace & Communal Harmony. In 2006, Honourable Smt. Pratibha Patil conferred the famous 'Ethical Honor' of Gulzarilal Nanda Foundation on Dr. Lokesh for his distinguished services in establishing ahimsa, peace and mutual trust in society. Mayor of Milpitas California Hoze Astawish honored him with 'Keys of Milpitas City' for his distinguished contribution in the field of non-violence, peace and mutual cooperation.